Glue Info

PREMIUM CYANOACRYLATE SUPER GLUE - LAB TESTED FOR OPTIMAL PERFORMANCE: High performance industrial grade adhesive. Water-thin CA glue goes deep to infiltrate and stabilize through capillary action.
EXTRA SUPPLIES: 1 ounce includes: (1) clog-free stopper, and (4) micro-tips for precision. 2 ounce includes: (2) applicator caps, (1) clog-free stopper, and (8) micro-tips for precisi
"WICKING TYPE" ADHESIVE: Great for beautiful woodturning finishes, pen making, hobby models, fossil preparation, metal powder inlays, turquoise inlays, hardening, stabilizing, and bonding close-fitting parts. Penetrates the finest micro-fractures, pores, and cracks through capillary action.
PROPERTIES: Viscosity: 2-3 cPs (meaning the thickness of the liquid is similar to that of water). Penetrating abilities of up to 0.002" in size.
LONG LASTING SUPERIOR SHELF LIFE: When well kept, our product can last several years in a cold environment. Just make sure to store the bottle under 40°F before AND after use
Super Fast Thin CA

Can't be beaten when it comes to getting into tight spaces on porous surfaces.
Whether you're working with powder inlays, ceramics, softwood, unpolished rocks, or even fossils, our Super Fast Thin CA Glue penetrates and stabilizes any crack or seam effortlessly through wicking capillary action.
This watery-thin adhesive also makes a stunning CA finish and polish when applied as several coats, sanded in-between, and buffed to a brilliant shine.
Want to keep the hold, but prevent absorption? No problem – we have the perfect solution! Starbond Accelerator keeps our glues from seeping into porous surfaces – the instant cure for unwanted wicking!
Repair and fill cracks, inclusions, voids, and knots in wood
Metal and turquoise inlays
Finish woodturning and knife handle with a hard, clear, waterproof seal
Medium CA

Medium-viscosity, multi-purpose, instant adhesive.
With an oil-like consistency, this glue has properties of both our thin CA and thick CA products, making it ideal for filling small gaps, penetrating narrow slots, bonding close-fitting parts, and creating high-gloss finishes on wood.
This CA wood finishing is accomplished by applying multiple coats, sanding, then polishing to a high shine!
This versatile adhesive is used in woodturning, guitar repair, and pen making, to name but a few applications.
Professional Tip: When bonding two smooth surfaces, be sure to lightly sand, or otherwise make them scuffed or more abrasive – the glue will have more surface area to adhere to, and therefore more holding strength!
Thick CA

Thick CA Glue is known as the "gap filler'.
This thick CA adhesive has a thick viscosity, making it the go-to glue for filling large voids and gaps, and heavy-duty bonding.
With its strong bonding capabilities, EM-2000 stays in place, even when applied at an angle.
This glue is specially formulated to have a longer curing time, allowing as much as two minutes for positioning and the most precise bonding.
Starbond Accelerator is perfect if you need the high degree of control but want to speed up the bonding time!
Regular price
Sale price
$9.50 USD
Unit price
per
Sale
Sold out
Share
View full details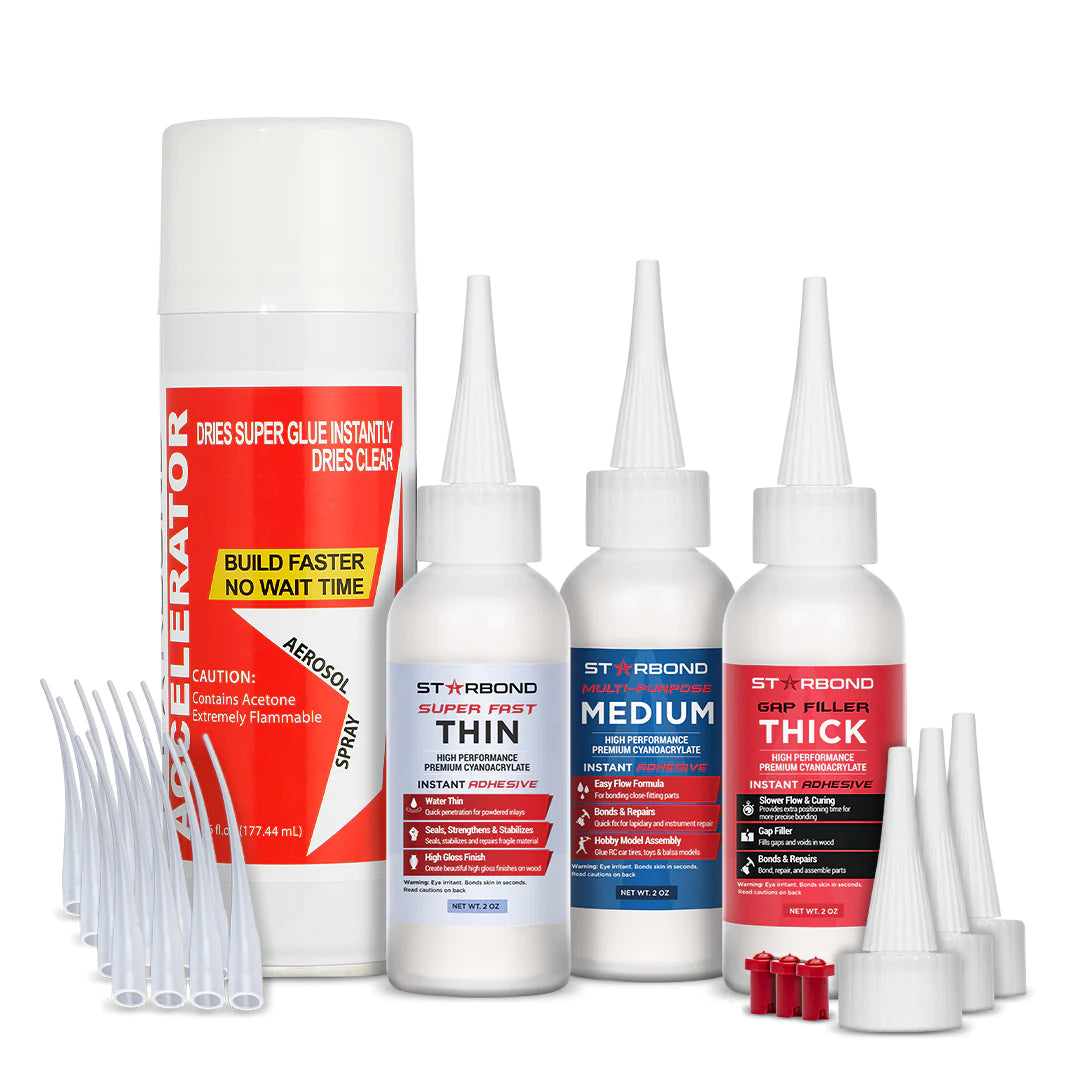 Starbond Premium Superglues
Starbond wants their customers to get their hands on one of the freshest CA glues the market has to offer. They produce fresh CA glues on a monthly basis, which means our glues are never sitting in a warehouse or store shelf for extended periods of time. Therefore, you may use our superglues with the utmost confidence in performance, quality, and reliability.