Glue Info

PREMIUM CYANOACRYLATE SUPER GLUE - LAB TESTED FOR OPTIMAL PERFORMANCE: High performance industrial grade adhesive. Black Medium-Thick CA is used to bond parts, with focus on impact and shock absorbance qualities.
EXTRA SUPPLIES: 2 ounce includes: (2) applicator caps, (1) clog-free stopper, and a bag of micro-tips for precision.
STRONG "BONDING AND FILLING" ADHESIVE: ideal for spalted wood and burl, hiding imperfections, filling dark voids, and accenting specific areas in your projects.
PROPERTIES: Viscosity: 500 cPs (meaning the thickness of the liquid is similar to that of syrup). Penetrating abilities of up to 0.008" in size. Bonding time: 40-60 seconds.
SUPERIOR SHELF LIFE: When well kept, our product can last several years in a cold environment. Just make sure to store the bottle under 40°F before AND after use
"Dark" Brown Medium-Thick CA Glue

For general-purpose use and so much more!
With its "coffee brown" color, there is no need to introduce sawdust and coloring agents to your other CA glues when filling voids!
The ideal adhesive for bonding close-fitting parts, filling bug holes and knots, and concealing imperfections in wood.
We also recommend pairing this glue to highlight and contrast light-colored woods, for perfect inlays, crack repairs, and sanding to a high-polish finish.
Conceal minor imperfections in darker wood such as walnut.
Fill cracks, inclusions, voids, and knots in wood
Glue and repair in general applications
Black Medium-Thick CA Glue

Flexible, rubber-strengthened, super glue that dries jet black
This amazing adhesive has impact and shock absorbing properties, and can expand and contract with its surrounding environment, making it the perfect glue for reconing speakers, hobby R/C car tires, woodturning inlays, and heavy-duty bonding.
It's also ideal for hiding imperfections, filling dark voids, and accenting specific areas in your projects, particularly in spalted wood.
Can also be sanded down and polished to a high-gloss finish and will not crack in a malleable environment.
PROFESSIONAL TIP

Colored CA's have a longer bonding time because of the added rubber compound.
It can take much longer than the typical minute or two to dry when large amounts of the adhesive are applied.
We recommend our Starbond Accelerator to reduce the bonding and drying times.
Regular price
Sale price
$19.50 USD
Unit price
per
Sale
Sold out
Share
View full details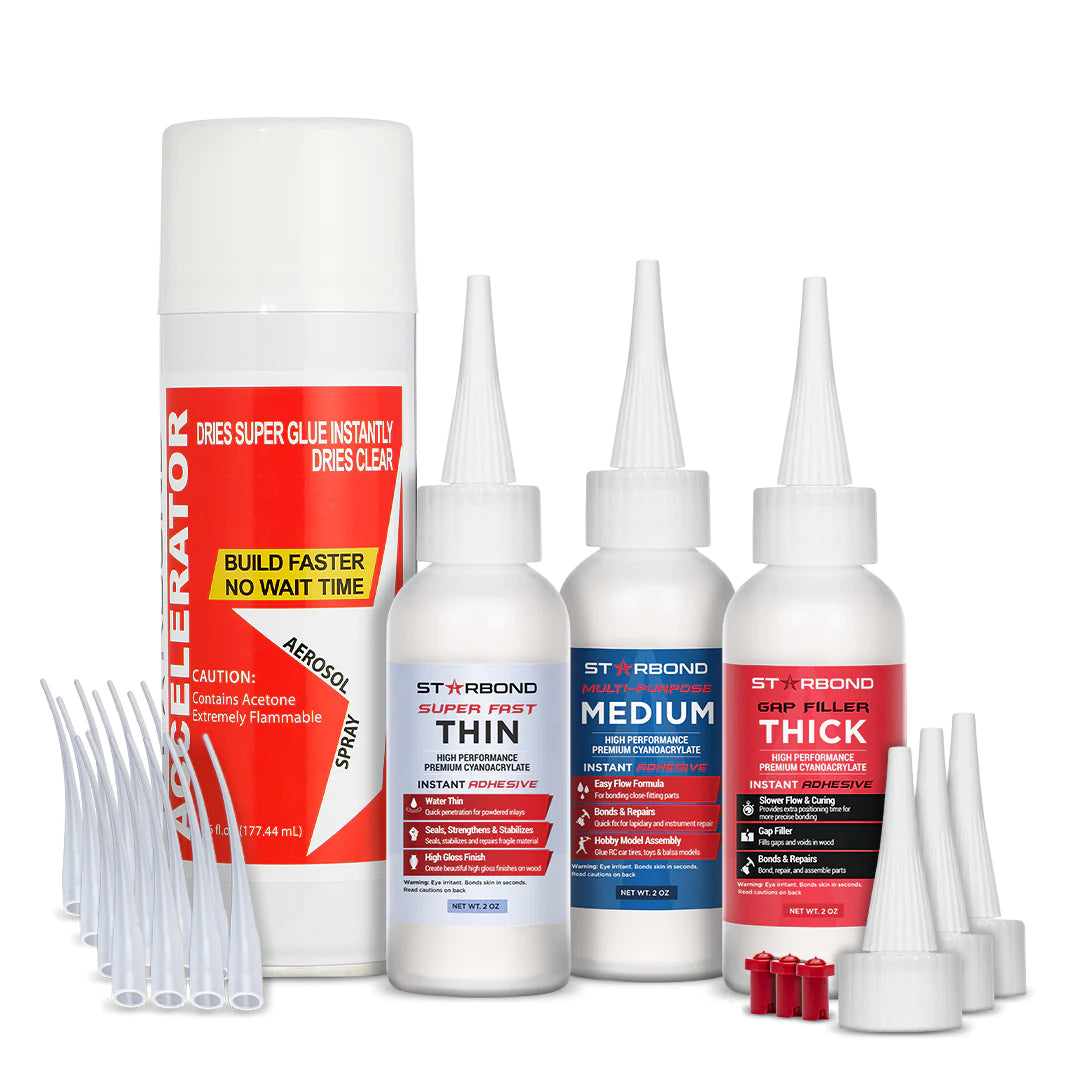 Starbond Premium Superglues
Starbond wants their customers to get their hands on one of the freshest CA glues the market has to offer. They produce fresh CA glues on a monthly basis, which means our glues are never sitting in a warehouse or store shelf for extended periods of time. Therefore, you may use our superglues with the utmost confidence in performance, quality, and reliability.