Product Specs

The out new Chameleon LED lights with 90 CRI (ALEDMACH) and 95 CRI (ALEDLATHE) for the best possible lighting.
With the Led benefits of long life, low power consumption, and low heat emission; this makes the Laguna LED line the best machine lamp available.
80, 90, 95 CRI are color rendering indexes. This index is used to compare artificial light sources to that of natural light that we perceive through our eyes on a sunny clear day. The higher the CRI, the more real things will look when shined upon.
Chameleon Color (Temperature) Control allows the user to tune the environment with the best lighting possible.
Poor lighting in a workspace can distort colors, reflect poorly, and cause shadows that make the details fade. The Chameleon Color control is technology taken down from surgeons and doctors that we thought would be very useful for the makers.
Full Brightness Control works in unison with the Chameleon color control allowing the user to further tune the lighting environment.
Casted Impact resistant heads are protecting us for the 2-year warranty we offer on these lights. The heads are water and dust resistant and can withstand a punch well enough for military standards.
Shadow Diffusing Lens make the shadows less crisp and noticeable. An undiffused light will cast a shadow with crisp lines, adding distractions. The diffusing lenses gives a more natural and pleasing light.
Multiple Joint Design. Solid joints are used to allow the user to move the light wherever it needs to be. These joints can easily be tightened and loosened as desired and are prepped with Loctite prior to shipping. 50,000 hour service life (5.7 Years). his means you can turn the light on, and leave it on, for 5.7 years before the bulb dies. This is because LED technology is very efficient, will not get hot, and uses very little electricity to operate.
100-240V LED Driver, 110V plug included. Another crucial component to longevity of the light is the driver. Our drivers allow for a voltage input anywhere from 100V to 240V and are equipped standard with a 110V 5-15 plug. This means that if you need 208V or 220V you can simple cut the plug and rewire it to the receptacle.
Low Heat & Energy Consumption. Based on recent electricity data, the 14W Chameleon lights will only cost $2.56 a year if used for 5 hours every day. Compare this to a typical Halogen Machine light, the cost is up to ten times that, and that is not included replacement bulbs or possible fire hazards.
Regular price
$174.99 USD
Regular price
Sale price
$174.99 USD
Unit price
per
Sale
Sold out
Share
View full details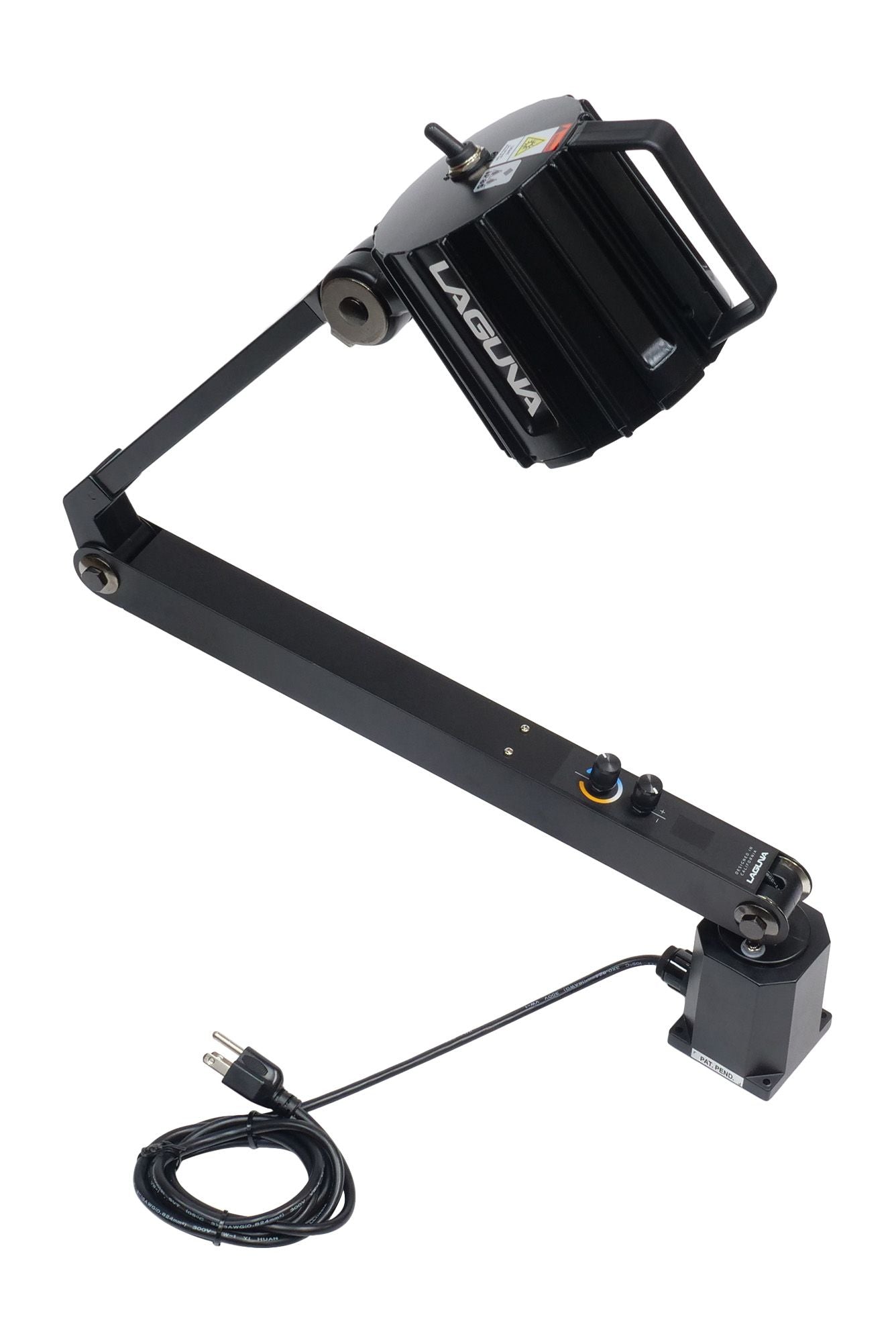 Laguna
Laguna Tools was born in Laguna Beach, California in 1983, out of a desperate need to find safe, quality and precise woodworking machines.
Laguna Tools forged a partnership to import high-end, superior quality woodworking machines and over the next decade the company became the number one importer of combination machinery in the US.
Now, over three decades later, Laguna Tools is still a corporation with the same values of quality, accuracy and safe products and that also focuses on their customers and their needs.